What's a Pagoda Got to Do With It?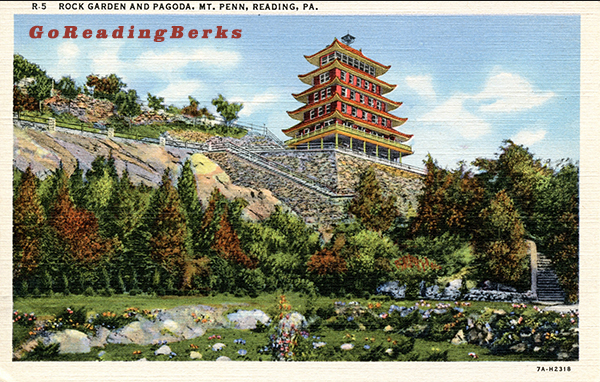 The town that I live in is located next to Reading, Pennsylvania. Reading is a small city that, aside from a few restaurants and bars, I don't know anything about.
Wait. I take that back. The Reading Railroad that is on the Monopoly board is this Reading.
In addition to that distinguishing feature the city of Reading also possesses a pagoda. It's one of those things you exit the turnpike for, to stretch your legs and take a selfie, when you are driving from Pittsburg to Philly.
The Pagoda is located on a hill that also boasts a nice hike or scenic drive. I have visited the Pagoda a handful of times. I find it kitschy and charming. I want to have party there.
I most recently visited the Pagoda when my aunt and cousin were in town. Our sojourn was a bit of a bust, as we were too early in the day for the monument to be open and the ground was covered in ice. (Oops) We got out of the car long enough to peak over the wall at the city and take one obligatory photograph. The babies were in the photo. And seeing how this post is about the pagoda and not them I chose not to use the picture I took. Thus, you (the reader) only get an illustration of the Pagoda from the 1900's.
Which brings me to the history of the structure…
With the price tag of $50,000, the Pagoda was built in 1908. It was orginally intended to be a luxury resort at the top of Mt. Penn, but due to a bank foreclosure and the denial of a liquor license, the Pagoda Resort never opened. By 1910, the Pagoda and surrounding 10 acres were deeded to a local business owner. On April 21, 1911 they "sold" the Pagoda to the City of Reading for the sum of $1. Since then the Pagoda has been owned, loved and cared for by the citizens and City of Reading.
It is 7 stories high. The Pagoda walls are 5 feet thick at the base tapering to 2 feet thick at the top of the second floor, from there to the top, they are frame-covered with terra-cotta shingles. There are 60 tons of tiles on the Pagoda.
There are thousands and thousands and thousands of pagodas in the world, and the Reading Pagoda may not make any Top 10 lists on Pagoda websites, but the Reading Pagoda is the only pagoda in the world with a fireplace and chimney.
Bam.
Go here to learn more about the Pagoda in the event you want to visit it.
Go here if I've just inspired you to get super-into pagodas and you want to plan your life's travel around visiting as many of the important ones as you can.
#2.