Cold Sun Snow Jager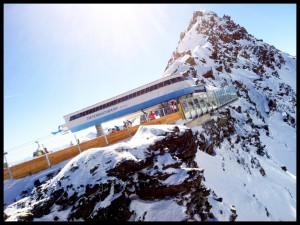 This weekend I took part in a psychological experiment.
In actuality, it was a weekend of developing observations about weather, changes in nature; and their effects on my disposition.
In actual-actuality, I went snowboarding for three days in Austria, and each day the conditions were strikingly different. I happened to notice that each day me (and sometimes my ski buddies) had a different attitude accordingly.
We went to Sölden, Austria. My husband and I really enjoy this snow covered playground and its town. This was our third trip back to Sölden; we brought his parents along this time. I'm pretty sure they now like it too.
Everything about our accommodations were fabulous. We stayed in one of those hotels that quite cleverly combines ski-cozy and chic. There's just as many rustic wooden items in the rooms as there are black lights; and it isn't tacky. There are sheep skins draped over everything, but the hotel also has a neon waterfall wall. They hand you a glass of champagne during check-in, but it's OK to wear your high top fluorescent Nike's to dinner on a Friday night. It's a ski town in Austria, but sometimes everyone wants to lace up their (preheated) ski boots while sitting in a race-car chair in the ski room. (a ski room that's really a ski shop in the bottom of the hotel)
I apologize for my tangent about the hotel, but it really was one of the coolest hotels I've ever had the pleasure of staying in. It was so cool I stole a pencil from the front desk as a souvenir. I hope to impress some friends with it in the near future. (I should have taken a few extras for Christmas stocking-stuffers next year.)
Traveling to a new destination can be a learning experience. To travel to an old destination with new people, and see it through their eyes, is a revelation. Of particular interest to me was learning a new style of Apres-Ski on this trip. On a normal ski trip, Apres-Ski means that after your last run you stop at a bar on your way home and have a drink in your ski boots. You take your helmet and goggles off, leave your boots on, and dig in your pockets for a couple of soggy dollars to buy a beer and a Jagermeister. You listen to a couple of hits while you reminisce with your cohorts on the best events and images of the day. It's noisy, and fun, and then you leave and go home and wash up for dinner. This weekend apres took on a whole new meaning. Now it means skiing down, taking the tram immediately back to your hotel, getting out of all of your ski gear, putting on your bathing suit and a robe and slippers, and strolling to the spa. Once in the spa you grab a beer, or some delicious mint-citrus water, a handful of mixed nuts, and you relax in an outdoor hot tub on the roof of the hotel. If you don't like hot tub you can sit in the sauna or float around in the indoor pool. Afterwards you dry off, and rock yourself to sleep in a large wicker swing. When you don't want to nap solo, you and your family can lie (together) on enormous mats in the corner of the spa with mood lighting and Sade on the speaker. You'll share quiet laughs and dream about building a home that looks just like a ski lodge. (Ski lodge, rustic, mountain, style is perfect. It's classic, rugged, sophisticated, comfortable, welcoming, and eclectic.)
Once this soothing, tranquil adventure has satisfied you; then you return to your room and get ready for dinner.
Nice, right?
So about this science experiment…
All three days had different ski conditions, and all three days I was in an unbelievably different mood. I hadn't realized my emotional roller coaster was directly related to the weather (and nature) until it was all through. Now, it seems so obvious. Our first day on the mountain it was freezing; unseasonably freezing. It was -18 Celsius at the top of the mountain. The glacier is at roughly 10,000 feet. I don't know what was going on up there, but the gondola to get to the glacier wasn't even open. We spent the entire cold, crowded, icy, Day 1, on the lower half of the mountain. It's been forever since I've had to snowboard on ice all day. I forgot how scary it was. Fear was my main emotion Day 1. I still love Winter sports, and I'll take whatever conditions I get; I'm just happy to be there, but the ice was sketchy as hell. Despite the frigid temperatures I was sweating all day due to extra adrenaline pumping. I think my feet got twice as strong from trying to control my board to hold an edge. I'm probably exaggerating the severity of the conditions, but there is a reason no one likes skiing on the East coast of America. I (and my buddies) successfully avoided any serious situations that can arise from skiing on shear ice. Everyone else on the mountain that day was not so lucky. We got to witness someone getting loaded on a helicopter and flown out of the resort. It's (obviously) not the first time I've been so near a helicopter, but it was pretty cool watching it do its job; taking off from the side of a mountain and cruising to distant peaks, into a cloudy abyss, carrying someone to safety.
Day 2 was perfect. I can't sleep in on a ski day; ever. I am always up early and am the first one to breakfast. At 7:00 am the sky was blue, the sun was out, the mountain tops were shining, the wind socks were lazy, and my bowl of granola was devoured before anyone else had even entered the dining room. It's easy to find energy to get to the mountain on time (if not early) on a day like Day 2. It's energy and power that comes directly from the sun. Being one of the first riders on the mountain is incredible. The slopes are huge, groomed, white, empty, and just waiting for you. It's hard to contain yourself in the gondola, or on the lifts. It took us 45 minutes, maybe an hour, to get from our hotel to the glacier. Luckily, we got to take a run en route. One of the coolest sounds in the world is the sound of one's snowboard (or skis) tearing through the fresh corduroy pattern set in the snow by the snow cats the night before.
Boy, was it worth the hour trip to the glacier; a tram, a gondola, a larger gondola, a ski run, a chair lift, another gondola, and skiing through a tunnel. The view from the top of the glacier is one of the most inspiring things I've ever seen. When I first step off the lift and look out on the mountain range from that height I cry. I don't think about crying before it happens. I'm not happy. I'm not sad. It's simply the vision before my eyes that causes them to well up. I find it so strange, and wonderful. I am so wrapped up in the moment, feeling great about the universe, and myself, and my day, loving nature, loving my family; all of it causes me to cry. I can't wipe my tears because I'd have to remove my goggles to do so. I just leave the tears on my face, and in my eyes. When I bend over to strap into my snowboard the tears fall on the inside of my goggles and my view is similar to looking through a windshield covered in rain drops. I don't care. Eventually it dries. On Day 2 we rode all day. We didn't stop to warm up, or get coffee, or use the bathroom. We didn't break until lunch, 4.5 hours later; a quick salad, soft pretzel, coffee, and bit of chocolate at 3,050 meters. The afternoon was nice too. Normally, in Spring, the snow in the afternoon turns to slush. It becomes harder to ride in because the snow is wet and heavy, and clumped into piles from being skied on all day. On Day 2, it remained cold enough that the snow still had a light fluffy texture and wasn't too full of push-piles. It was perfect for tired legs. It was still possible to carve with minimal amounts of energy. We were having fun; feeling like kids with unlimited amounts of energy.
Even on a perfect day, at 3:30 Apres Ski begins to call my name. No matter how much I love the day I do not love the last run down. I try to finish my day while I still have a bit of energy to get down. If you wait until you're cashed it can be a detrimental situation. The last run is always a narrow run, full of people that are just as tired as I am. It can get sketchy, especially because (due to beer and alcohol sales all day long) you can bet that 50% of your fellow skiers are just as exhausted as you and they're also hammered.
We got spoiled on Day 2; being any better would have been too great a challenge for Day 3. Instead Day 3 decided to be cloudy. We skied in low light conditions the entire time. It was not nearly as difficult as skiing Day 1, but it just wasn't Day 2. It was hard to get in a groove. We rode the entire day, but not like kids in a candy store. I felt, on Day 3, like I was continuing to snowboard because it was my last day and last chance. Finally, when there really wasn't any light, late in the afternoon, we skied home. We celebrated the accomplishments of the long weekend with a long Sunday night dinner. We feasted on seven courses before falling into bed.
On Monday we drove home…in the snow. Of all the conditions you could drive in, in March; it was snow. It's Wednesday. It's snowing in the mountains again. It will snow tomorrow too. We're resting until Friday. After that, we'll go back. We've got to. The slopes are calling to us…and the Austrian car pass is good for eight days.
I am curious to see what personalities this next weekend's weather will bring out in me. What will I learn? What will I contemplate with my ski buddies as we ride lifts, and gondolas, and trains, and buses, and sip beer and Jagermeister?