Little America in the Alps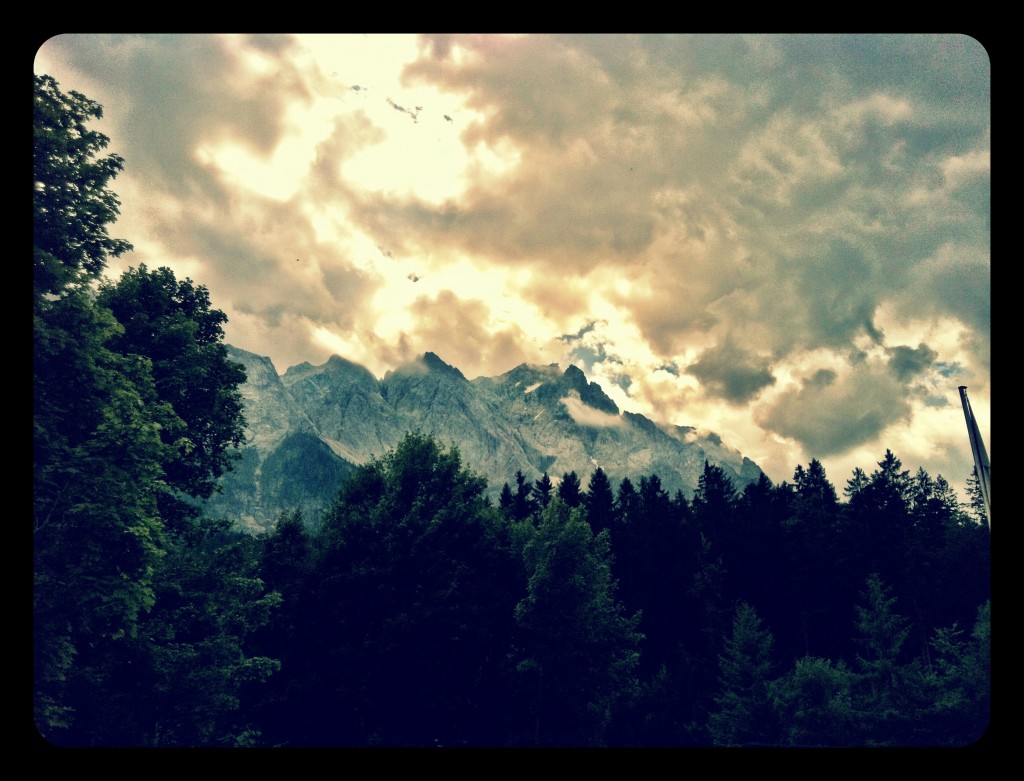 This year we celebrated Labor Day with a camping trip…in the Alps. We packed up our tent, sleeping bags, lanterns, and marshmallows. We donned our hiking boots, and thermals. We pointed the compass south, and we were off for four days of nothing-but-nature.
You would have thought we were doomed because there's a law in Germany that says you can't have camping fires. You would have thought we were doomed because we couldn't find a propane tank to fit our pocket-rocket. You would have thought we were doomed because the temperatures were going to be between 45 and 65 degrees. You would have thought we were doomed because it rained for half of our stay. If you would have thought any of those things you'd be wrong. We had a blast.
We camped at the Army's resort, called Edelweiss. It's an Army base; that's really just a resort at the foot of the Zugspitz, the highest peak in Germany. This experience was a first for me. I've never taken a vacation that's Germisch (that's my word for things that are half German-half American) but it couldn't have worked out better. The campground's location is beyond perfect, and it's nice to have "roughed it" and not battled so many cultural idiosyncrasies. For instance, we were able to bend a certain fore-mentioned law, we watched a fireworks display to mark the holiday, and when it started pouring rain Saturday-into-Sunday we were able to rescue ourselves by purchasing some amenities that would have otherwise been unavailable, since stores in Germany are closed on Sundays.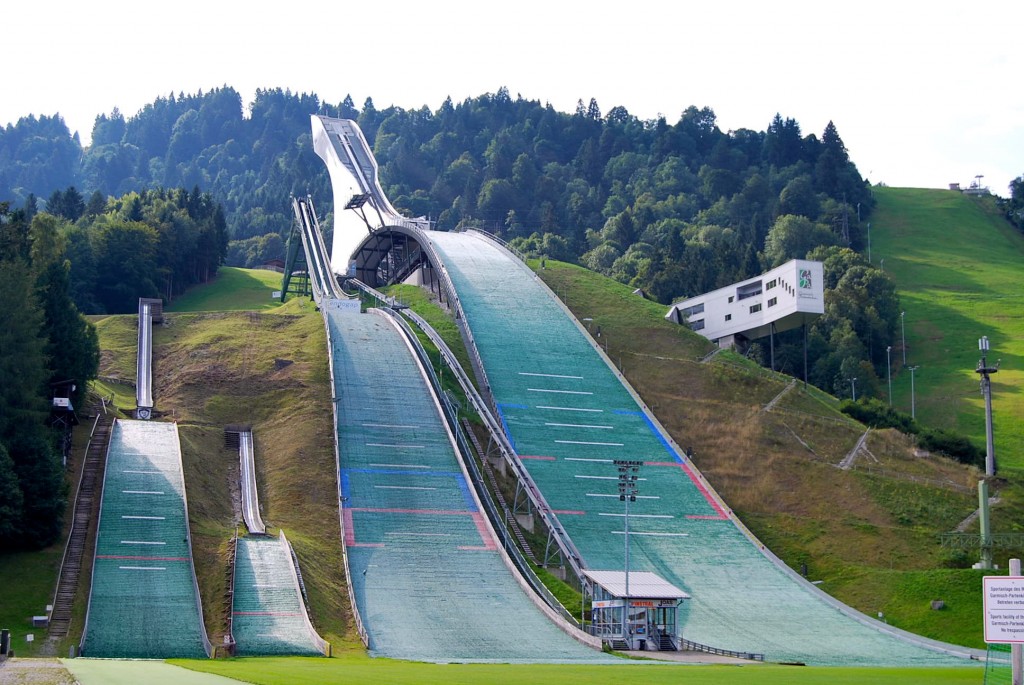 The area is known as Garmisch-Partenkirchen. It's actually two towns, separated by a river, that were forced to marry in 1935 by Adolf Hitler. This was in order to prepare the area for the 1936 Winter Olympics. During our stay we visited the Olympic arena, learned of it's history, and watched it's ski jump in action. The dudes actually practice on the jump all year long! I was impressed with how easy it is to slide along the lawn on your skis.
The base of the Olympic arena is also the starting point for a fabulously serene, 45 minute hike to a gorge. It's called the Partnachklamm. The preliminary hike was definitely the most serene part of the tour. The rest of the gorge is loaded with tourists (such as ourselves) and biergartens, restrooms, and souvenier shops.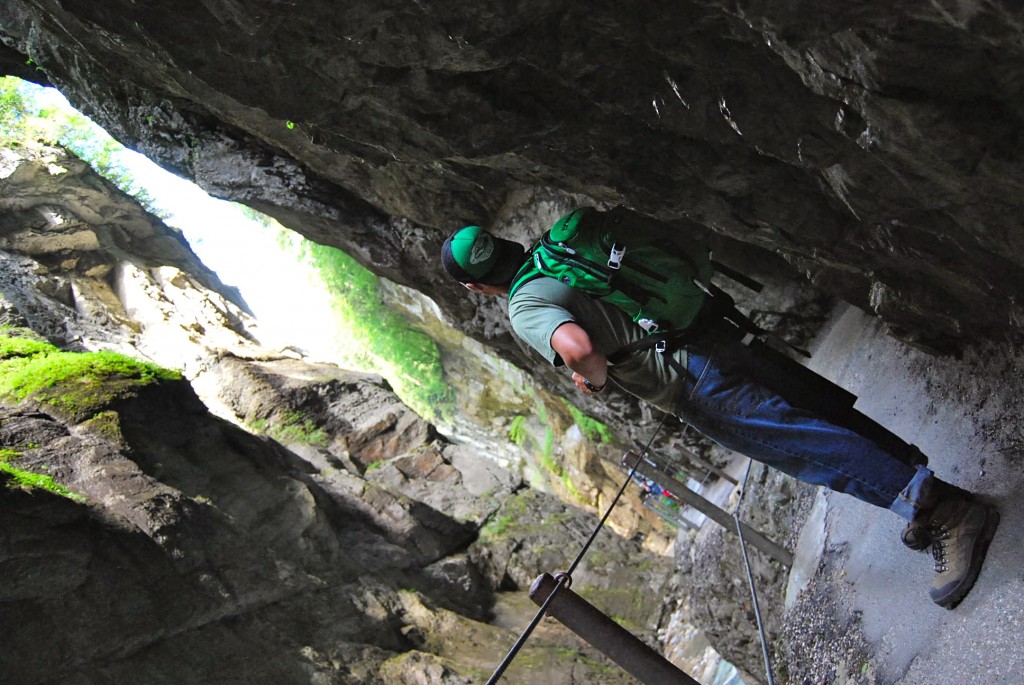 This region of Oberbayern has a multitude of trails, peaks, gorges, castles, lakes, and small towns for anyone to enjoy by foot, bike, boat, car, glider, or motorcycle. The possibilities are endless. After our tour of the gorge we drove east to the foot of the Zugspitze and had lunch on the Eibsee. (see means lake in German) After some beer, a rotisserie chicken, and apple strudel, Phil and I decided it was time to depart the sun terrace. Truthfully, the smell of the enormous whole-fish on the grill was beginning to spoil our mood. We opted to leave the lakeside, hop in a kitschy paddle-boat, and tour the middle of the lake while gazing up at the majestic Zugspitze. I've seen a lot of the Alps in winter, but this was the first time I've seen them in summer. I'll admit that it is equally as breathtaking.
The chairlifts to the Zugspitz run year-round. I think I found my next chairlift painting…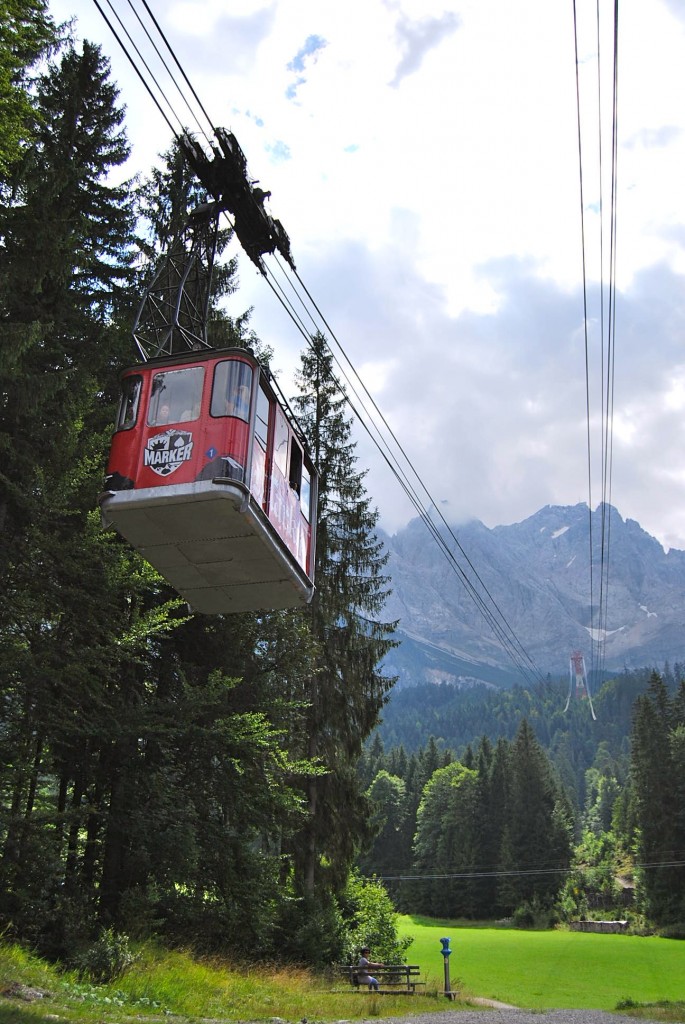 Thanks for reading. I hope you enjoyed hearing about our weekend. But it doesn't end here; tune back in (in a few days) when I'll have posted my manifestations of the weekend's inspirations on the Creative Blog.